Jazz is undoubtedly America's music, and while Blue Note strives to preserve the history of jazz, the club is a place where progression and innovation - the foundations of jazz - are encouraged and practiced on a nightly basis. In addition to the main acts that feature the likes of Chick Corea, McCoy Tyner, Joe Lovano, John Scofield, and Chris Botti, Blue Note has introduced the Monday Night Series and the bi-weekly Late Night Groove Series to showcase New York's up-and-coming jazz, soul, hip-hop, R&B and funk artists.

Address: New York, NY, 10012
Click here for see the full address
Website: Blue Note Jazz Club
Phone Number
Blue Note


Since its inception in 1981, Blue Note has become one of the premier jazz clubs in the world and a cultural institution in Greenwich Village.

Owner and founder Danny Bensusan

had a vision to create a jazz club in Greenwich Village that would treat deserving artists with respect, while allowing patrons to see the world's finest jazz musicians in a close, comfortable setting. Artists who had stopped playing in jazz clubs decades before, such as Sarah Vaughn, Lionel Hampton, Dizzy Gillespie, Stanley Turrentine, Oscar Peterson, Ray Brown, and Tito Puente, soon called Blue Note home.

Over the years,

Blue Note

has been an economic engine for Greenwich Village, bringing in jazz fans from all over the world. The club receives rave reviews on a weekly basis in New York's daily newspapers such as The New York Times and in international travel guides and magazines. What makes Blue Note so special is that on a given night, anything can happen. It is not uncommon to see the likes of Stevie Wonder, Tony Bennett, Liza Minelli, and Quincy Jones get called up on stage from the audience to sit in. Blue Note gives artists the musical freedom they deserve, and jazz fans get a chance to see the most unlikely combination of stars night after night on the Blue Note stage.

After twenty-five years of success,

Blue Note

continues to carry the torch for jazz into the 21st century in the cultural heart of New York, Greenwich Village.

Located between 6th and McDougal St., Blue Note offers music every night at 8pm and 10:30pm. On Friday and Saturday nights, Blue Note has a Late Night Groove Series at 12:30am and offers a Sunday Brunch for $24.50 a person at 12:30pm and 2:30pm weekly.


Contact here


Address and Phone Number
131 W. 3rd St New York, NY, 10012



Website: Blue Note Jazz Club The club is a place where progression and innovation - the foundations of jazz - are encouraged and practiced on a nightly basis.
Mike - our private guide
in Belgium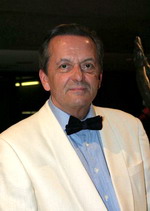 Our Private guide in Belgium has 40 years of tourism and hotel business experienced. Private guide in Belgium Mike able to recognize his guests, and to give them exactly what they expect and to take the appropriate attitude to their personal preferences and needs ( history, arts, sites, nature, local gastronomy, etc) Private tours of this guide in Belgium.
Private guide
in Belgium
is waiting
for you!!!